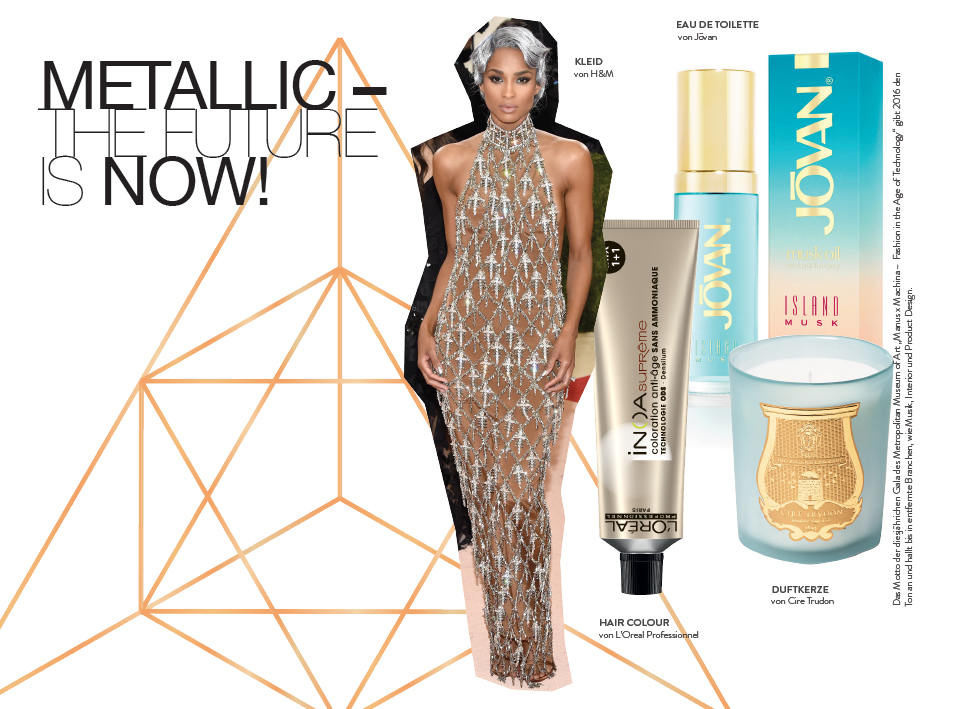 Metallic trend – The future is now! We reach for the stars: glitz, glam and unicorn dust.

After this year's MET Gala in New York, one thing is very clear: the future is here. Under the motto "Manus x Machina – Fashion in the Age of Technology", technology meets craftsmanship in a polarising ensemble that brings together traditional and highly modern materials in pieces full of glitz, glam and metallic elements.
The Metropolitan Museum of Art's famous Gala – also known as "the Oscars of the fashion industry" – is an ode to technological innovation. Alongside meticulous craftsmanship, it showcases the aesthetic potential of machine-made (mass-produced) products. Designs featuring 3D printing, silicone, fibreglass, metal appliqué and laser technology are testament to this: combined with needlework and haute couture, they make for an expressive and impactful statement which many fashion designers have already drawn on for their own shows.
By tapping into these technologies, the packaging industry has also been able to create impressive statement pieces. Using sensors, chips and LEDS, surfaces have been transformed into high-end interfaces, into multimedia skins which connect the inside and the outside even better than before. In the future, for example, best-before dates on food packaging will be replaced by so-called "smart labels". Digital printing and 3D printing also make it possible to produce samples quickly and in small batches. The future looks bright, then – opening important doors, and looking good in the process.
Technological innovations not only herald new possibilities in terms of design; in combination with the skills of art and traditional craftsmanship, they have also given rise to a futuristic "poetry of pomp". Metallic elements, shimmering sealing wax, fluorescent finishes and gemstone applications imbue the design with movement as soon as the light touches its surface, lending it a dynamic unlike anything we have seen before. "Manus x Machina" reads like a poem from the next millennium.
The motto of this year's Metropolitan Museum of Art Gala, "Manus x Machina – Fashion in the Age of Technology", sets the tone for 2016 and ventures into spheres as diverse as music, interior design and product design.