Some brands are able to reinvent themselves and their packaging frequently without loosing their individual edge. Among them, the cosmetic brand Kiehl's, which cooperated with the Australian artist duo Craig x Karl.
We, the customers, often tend get into certain habits. We buy the same things at the same store at the same time… but every once in a while, we wish to have a bit of a change. These days, cosmetic brand Kiehl's is giving us that kind of change. Early enough for the festive season, ist beauty products comes in a new fashionable costume.
As a matter of fact, the pop art artists Craig x Karl set their distinctive illustrations on the Holiday edition package. The result, a vibrant design that is characterised by a known traditional, yet unconventional New York style. The playful graphic of the bestseller, the Kiehl's Ultra Facial Cream, is fun to look at, as it resembles a caleidoscope. Likewise, the Creme de Corps with its colourful label is a true eye-catcher.
This year's liasion with Craig x Karl is not the first collaboration between Kiehl's and the art scene. On the contrary, the cosmetic brand has been working together with artitst every year now. This year's exclusive design is not only portrayed on the packaging, but also on at windows, in shops, gift sets and other accessories.
Good to know: With each sold tin of the Ultra Facial Cream, Kiehl's donates 1,- Euro to the German AIDS-aid.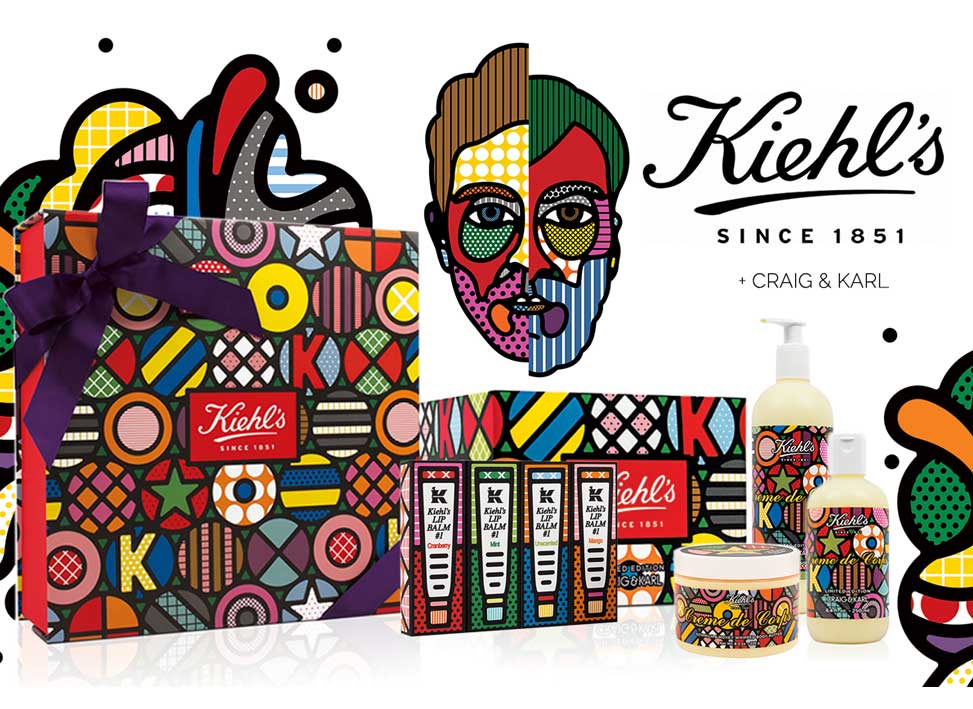 +
PACKAGING DETAILS
PACKAGING & MATERIAL: Plastic bottle with flip top (Creme de Corps), plastic jar (Ultra Facial Cream) with label and seal, glued slip lid cardboard packaging with magnet closure and red ribbon
PRINTING METHOD & FINISHING: Folding box and glued slip lid cardboard packaging are offset printed, bottle and jar are labelled
LAYOUT: Pattern trend, illustrated by the artist duo Craig & Karl, on the inside you'll find the Kiehl's brand story