What is our elixir of life, what keeps us young? According to Diane von Furstenberg, it's love and water! Through her design for evian®'s latest limited edition bottle, she documents with her distinct handwriting what revitalises us:
'Water is Life is Love is Life is Water is…', the words of the famous female designer are of philosophical character. In that fashion, Diane von Furstenberg and evian® celebrate the lust for life as well as 'youth and purity'. Accordingly, the white letters covering the bottle consist of organic ink, a reason why the bottle is a 100% recyclable.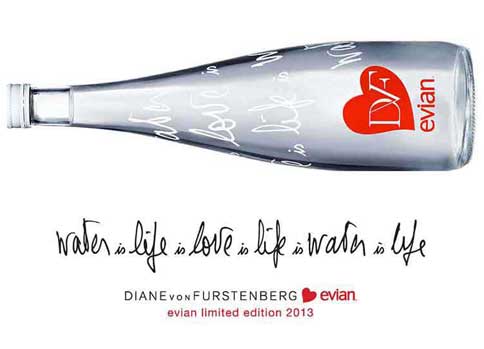 The ubiquitous heart DVF logo comes in a special hue of red to underline the exclusivity of this cooperation. Since 2008 evian® collaborates with the world's most esteemed designers – including Paul Smith and Jean Paul Gaultier – to communicate their message: 'Youth is not a matter of age, it is a mindset'.
The optimistic vision is contagious. We love life, love and evian®!
+
PACKAGING DETAILS
PACKAGING & MATERIAL: Recyclable glass bottle
RINTING METHOD & FINISHING: Direct print, organic ink
LAYOUT: Dynamic shape combined with a vivid typography