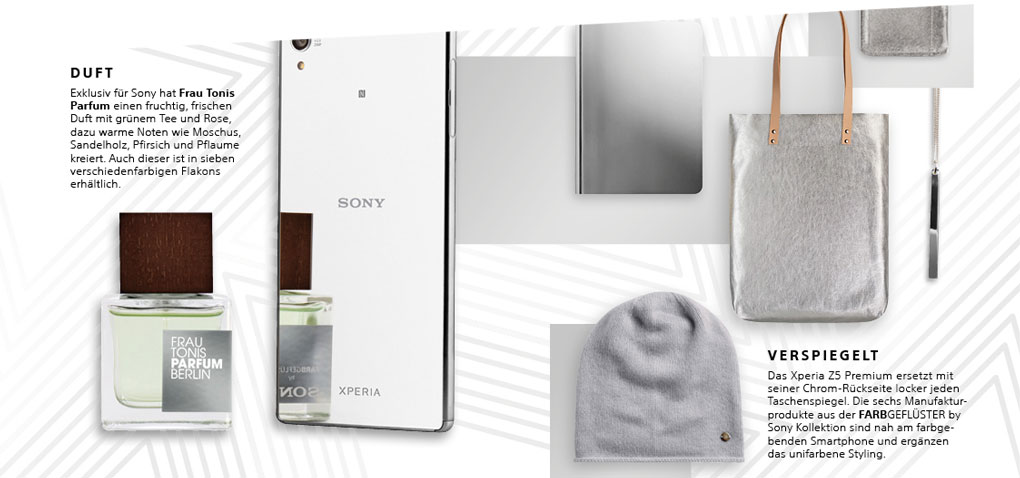 Shortly before Christmas, Sony stages its new smartphone collection and it does not come alone. From dark green to mystic metallic tones to vibrant colours, Sony has something for everyone's taste, and even offers a matching packaging and accessories collection.
With the new Sony Xperia Z5 series, the brand demonstrates that it is more than a phone. It is an experience. It is a sense of life. A brand world that does not end with technique, but continues with fashion. The Xperia Z5 series from Sony shows off with 7 new colours – graphite black, silver-white, dull-gold, fir green coral, yellow and chrome – in celebration of "60 years of Sony products". The "Farbgeflüster" collection was reveled with six German manufacturers each contributing an accessory to have a proper package.


The package for your urban look
Let's begin with Frau Tonis Parfum. The perfume factory created seven different wooden sealed flacons by changing the colour of the label. Since we love to carry our favourites with us, the young label Lellor from the Hamburg girl Isabel Liebman has created a unisex shopper. One of these favourites could be a note book from the Frankfurt label Nuuna. Made from Swedish fine paper, stitched and wrapped in metallic artificial leather it does not only provide room for creative ideas, but is quite extraordinary itself. Similarly, the Munich label Namami stands for unique and handmade design providing a filigree necklace with the characteristic "ray of light". With its beanie made from sustainable Italian premium yarn, Casimier keeps you warm this winter. Last, but not least, Lapàporter provides you with an elegant case for your phone.