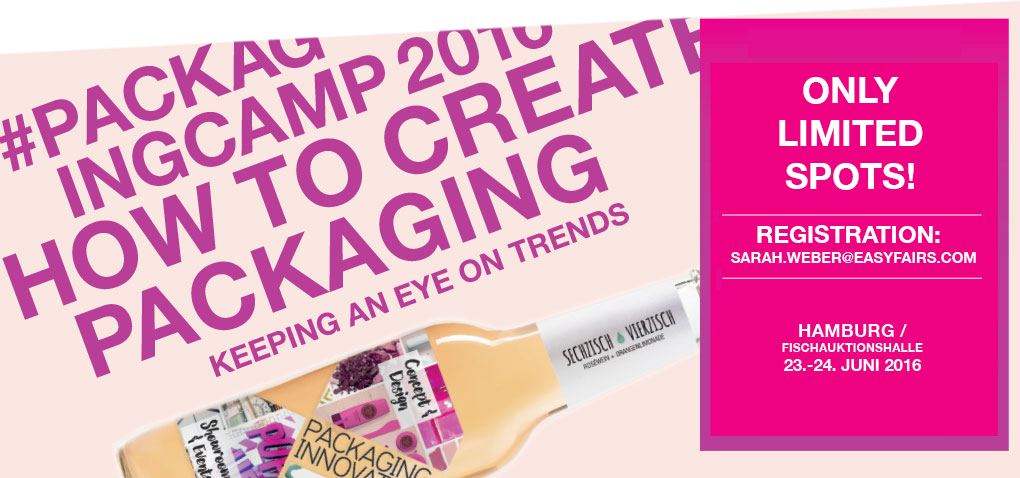 THE LOOK & LIKE x Packaging Innovations Promotion:
Nachdem die Light Version des PackagingCamp in Zürich bereits auf großes Interesse gestoßen ist, geht es am 23. und 24. Juni in Großformat in Hamburg weiter – innovativ, inspirierend, hands-on. Erlebe die Verpackung in all ihren Dimensionen!
Im charmant-rauen Ambiente der Fischauktionshalle holen wir uns zahlreiche Packaging Experten mit ins Boot und liefern Designer, Brand Owner, Product Manager und Packaging Fans ein besonderes Goodie.
Euch erwarten:
• Die besten Brand Stories und Strategien, by THE LOOK & LIKE
• Die Design Trends von heute, by THE LOOK & LIKE
• Personalisiertes Packaging + individuelle Layoutgestaltung mit dem neuen Web to Print Design Tool, by Seismografics
• Die Verpackung der Zukunft durch multisensorische und smarte Features wie Printed Electronics, by Karl Knauer KG
• Mock-Up Gestaltung vor Ort im Packomobil, by VerDeSoft
• Ein persönliches Packaging mit allen Informationen in der tollen PI Box direkt zu Euch nach Hause
• uvm.
Tickets: 299 € / Registrierung über sarah.weber@easyfairs.com oder über Xing Events!

Messe- und PackagingCamp Highlights:
Donnerstag, 23.06. 2016, ab 18 Uhr

Packaging Art Night mit Ausstellung – Architecture of wasted fantasy – THE POETRY OF PACKAGING – von Werbefotograf Tom Seelbach
Freitag, 24.06. 2016, 9.30 – 11 Uhr

Keynote Speaker und Design Visionär Karim Rashid über "The Future of Packaging"