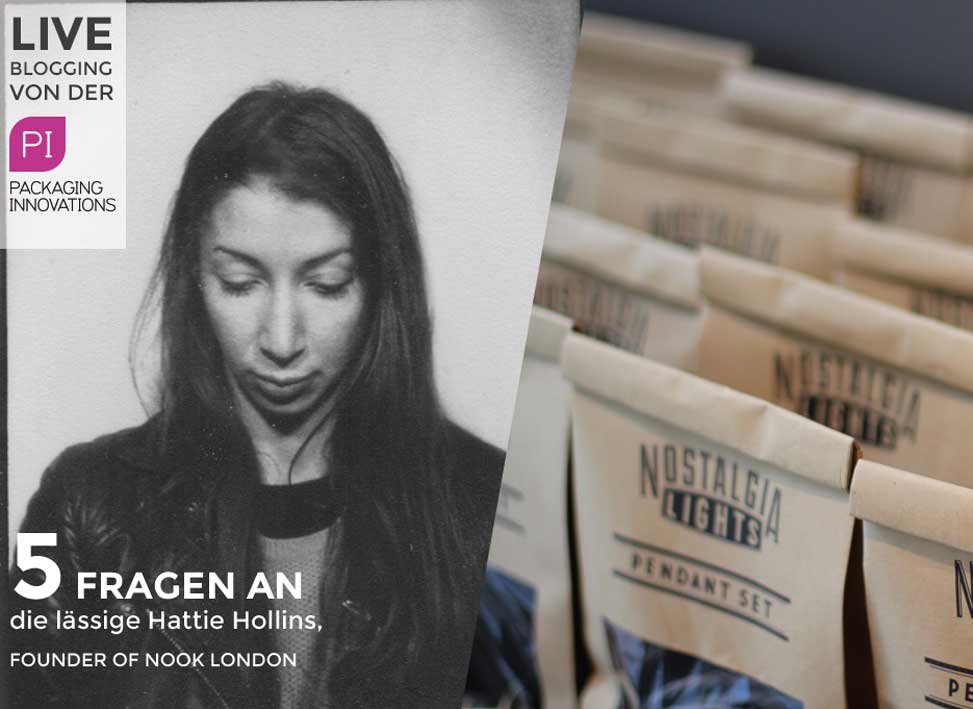 1. Hattie, please tell us something about your company. What's behind Nook London and the project Nostalgia Lights?
Nostalgia Lights is a brand of vintage, industrial inspired lighting born from Nook London, a company set up as a retailer of homeware inspired by the industrial era. The development of Nook London as more generalised homeware entity has been a slower as we have been focusing on developing our the brand Nostalgia Lights primarily.
2. Obviously, we really like the Nostalgia Lights packaging. How would you describe it in a few words? What was your inspiration for it and how does it communicate your brand story?
Beautifully simple, natural, renewable. The entire Nostalgia Lights family is packaged in recycled, recyclable or reusable material; from recycled cardboard, to reusable canvas bags for the lamp shades. With no the absolute minimal of plastics and zero polystyrene to be seen anywhere.
A product to reflect a bygone era, using 'old fashioned', natural materials. The natural and simple colour pallet of the main packaging materials teamed with the use of a font and illustrations are used to communicate an aesthetic of the industrial era; the theme at the forefront of the Nostalgia Lights brand
3. Has it been difficult to turn your design idea into a shelf-ready product or are there any special packaging features that were difficult to realise?
The entire range has been produced with the retail market in mind, we were able to do this successfully with the use of very simple line drawings, against the packaging materials as explained above, which dually reinforced Nostalgia lights as a brand. However communicating the exact product inside for one of our lines; the Pendant Sets has been tricky.
With so many colour combinations available we decided the only way to accurately show the product inside would be to use a small plastic window. We toyed with a lot of different variations to minimalise the use of plastic and have come up with a beautiful finished, primarily cardboard tube, with small plastic window on the top.
4. What do you think, to what extend do you have to focus on packaging and design in order to survive as a brand in a harsh retail environment?
Packaging is an essential part of a brand, espcially for design led products, it is how you communicate who the brand is, its ethos.
We have been in this particular market for about three and half years and it has become increasingly more competitive, the aesthetic of our packaging is an essential part of us staying ahead and keeping our brand a strong and individual entity.
5. We are curious, will you soon surprise us with any new product / packaging launches? In fact we do! Our SS15 seasons products will see the introduction of a sub-brand of slightly higher-end, more bespoke lighting products.
The launch of Nostalgia Lights reserve begins with four maiden style of lamp shade, all packaged in a deep grey felt material, with copper zip. subtle leather detailing on the side of the bag brands the product in a nonintrusive way.
The packaging is similar to that used in our previous lines of lamp shade, but with a more subtle brand and higher end materials, the aesthetic of the bags reflects the direction of the brand, marrying classic, vintage design with a bespoke modern touch.
So, now it's your turn. Do you have any questions we can forward to a packaging specialist at the fair, do you need any tipps or are you looking for a certain material or supplier?
Nothing right this moment, but i'm sure I'll have questions to ask once were there.