Was ist unser Lebenselexier, was hält uns jung? Für Diane von Furstenberg ist es ganz klar: Liebe und Wasser! Mit ihrem Design für evian®'s aktuelle Limited Edition dokumentiert sie mit ihrer einzigartigen Handschrift, was uns alle vitalisiert.
"Water is Life is Love is Life is Water is…", philosophisch sind sie, die Worte, welche die berühmte Modemacherin Diane von Furstenberg auf die Wasserflasche zaubert. In diesem Sinne zelebriert sie gemeinsam mit evian® die Lust am Leben oder besser gesagt "youth and purity". Demnach sind auch die weißen Letter aus organischer Tinte puristisch und rein und die Flasche zu 100% recyclebar.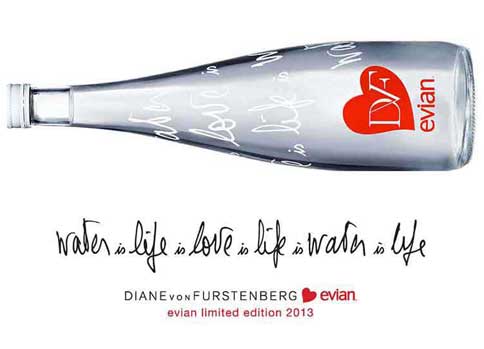 Das allgegenwärtige Herz DVF Logo schmückt die Flasche in einem besonderen Rot-Ton, welches speziell für die evian®-Kollaboration kreiert wurde.
Seit 2008 koopertiert evian® bereits mit angesehenen Künstlern und Designern – darunter auch Paul Smith und Jean Paul Gaultier – um seine Message zu kommunizieren: "Youth is not a matter of age, it is a mindset". Der einzigartige Optimismus ist ansteckend. Wir lieben das Leben, die Liebe und evian®!
+
PACKAGING DETAILS
VERPACKUNG & MATERIAL: Recyclebare Glasflasche
DRUCKVERFAHREN & VEREDELUNG: Direktdruck, die Tinte ist organisch
LAYOUT: Dynamisches Formdesign kombiniert mit einer schwungvollen Typographie